Packaging and transport are part of the quality experience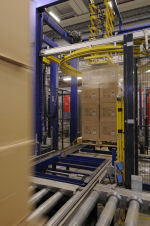 After all our elaborate measures for ensuring quality before and during production, we are naturally keen to ensure that items survive their transport undamaged. This applies both for the journey from suppliers to us and for delivery from our central warehouse to individual Tchibo shops, the supermarket and bakery depots, and directly to your home via Tchibo direct sales. We therefore precisely define and check their respective packaging in advance to ensure the item has sufficient protection during shipping. For example, we conduct drop tests and tests in "climate chambers" before the products are shipped.

With regard to transport, we also consider the impact our logistics processes have on the environment. This includes the continuous improvement of our transportation processes with regard to environmental aspects and reducing CO2 emissions.


Recyclable packaging
In addition to transport-related demands, we also attach great importance to environmental considerations in our packaging. On principle, we avoid using synthetics that contain substances harmful to the environment such as PVC. Our packaging is made from recyclable materials. And of course they meet all consumer protection requirements, for example regarding the safety of toys.


Inspection of incoming goods: we are the first critical customer
When the products are delivered to our central warehouses, we carry out a further quality inspection in Goods Receiving. This is an important step in quality assurance as the inspectors carrying out spot tests here are the 'first critical customers' to see whether, for example, the zipper really works smoothly or the rain jacket is truly watertight.

Once the goods containers have arrived, the staff first give the delivery a 'visual once-over", looking for obvious defects. The error rate is very low, at under 0.5 percent.


Thorough quality inspection

A certain number of cartons or product palettes are randomly selected from each incoming delivery and sent to Quality Assurance, where the products are thoroughly examined. We pay particular attention to compliance with the contractually agreed features and whether the products are free of defects. For instance, we will test the colourfastness of a T-shirt after several wash cycles, or the resilience of a bag, or a cooking pot for its heat resistance. Orientation in this process is provided by a sample sent to Tchibo in advance by the supplier, and a troubleshooting guide drawn up specifically for the product. The product standards issued by the International Organisation for Standardisation (ISO) also play a role here. If the product meets all requirements and no defects are found, it is released for sale.


Green light to go before the customer
Only products that pass the Tchibo quality process will later go on sale. Once Quality Assurance has approved its release, the item leaves storage on its way to the customer. Via complex and almost fully automated regional distribution centres, they make their way into the shops and supermarkets, and finally to your home – always in tried-and-tested Tchibo quality, of course.